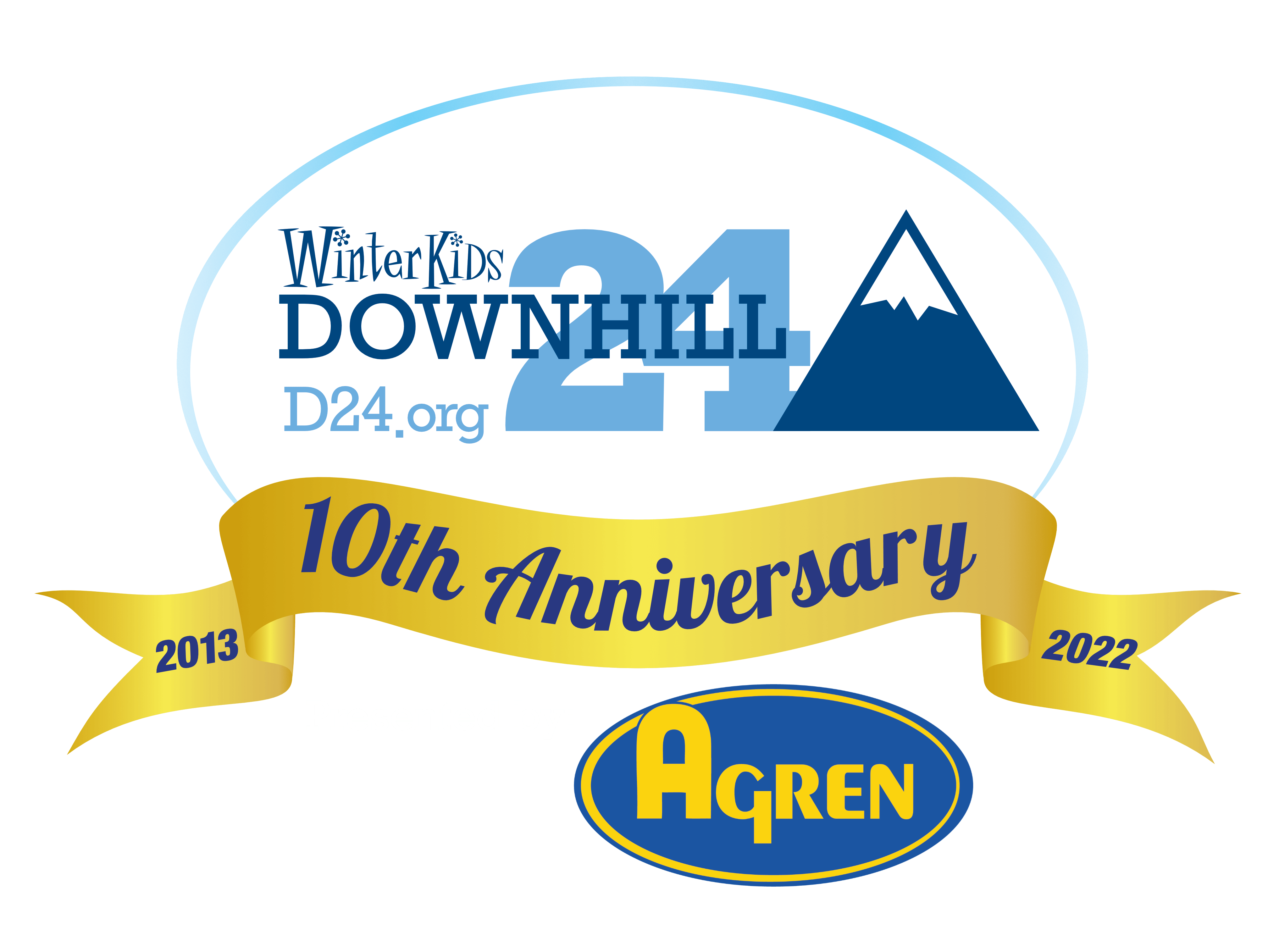 King of the Mountain & Kids' Cup
The most prized award of the Downhill24 is winning either the King of the Mountain or Kid's Cup top prize. These titles are given to the top 24-hour teams with the top combined scores following this formula:
Fundraising 55%

Time on Mountain 30%

Race Arena 7.5%

Obstacle Course Tournament 7.5%
King of the Mountain Cup

Teams comprised of participants of all ages.
Kids Cup

Teams comprised of 17 and under participants
The King of the Mountain team and Kid's Cup team get their name forever engraved on the cup and bragging rights for an entire year!
CLICK HERE to learn about 24-Hour teams vs. Day-Only teams
24-Hour Team Time on the Mountain
This element is designed to test your endurance, do you have what it takes to stay on the mountain for the full 24-hours?
Each team member will get a timing chip.

You receive 1 point per run (accounted for by timing mats). 

Maximum of 2 runs count per hour.

Timing mats are at the Superquad Lift (9am – 3:45pm) & Double Runner West Lift (9am – 8:30am). 

NOTE: Points will not be counted during grooming hours.

All participants who get at least 1 run during the 8 am hour on Saturday will be counted for 2 runs)
24-Hour Team Skin-Up/Hike Up Challenge
In 2021, we introduced a new element, for fun, to the Downhill24: a group skin-up. This was SO MUCH FUN, and SO successful, our board member and D24 committee member, Jeff Zachau, had a brilliant idea to add a skin-up element to the 10th Anniversary Downhill24 (we share this with you so you can thank Jeff when you see him). 
GOAL: To skin-up/hike-up Narrow Gauge 1x an hour
You can either skin-up using skins on your skis OR you can hike up using snowshoes. You choose.
POINTS: 4 points per person, per successful skin-up. Yes, you read that right. If you choose to skin/hike, you get DOUBLE THE POINTS per person, per hour. 
Rules
YOU MUST REGISTER TO SKIN-UP (please be sure to choose this option when you register). This is a safety issue as our medical team/timing team will be keeping track of who is participating in this element of the event. 

You will START with skinning or hiking, and you will use that mode of getting up the hill until you can't do it anymore. Once you decide to quit the skin/hike and move over to downhill/using the lift, you cannot go back to skinning. This is a safety issue and must be followed accordingly. You can take an hour off to rest, but once you use the lift to get up the mountain, that is the only way you can travel up from that point forward.

CHECK-INS: There will be designated timing mats at the bottom and top of the skinning/hiking trail. You must check in by tapping those at both the bottom and top to get credit for your climb. 
24-Hour Team Obstacle Course Tournament
When the mountain closes to the general public around 4 pm, there is grooming on the mountain. During this time, we add a FUN obstacle course element to the event. This allows teams to have fun and be competitive in a different way. 
PROCESS:
Each team can submit one (1) team of 2 for the competition. (Waivers signed during registration)
The top 8 fastest teams (King of the Mountain and Kid's Cup) move onto "tournament"

Semi-Finals (top 4 teams)

Finals (top 2 teams)
PRIZING: Top three teams, both mixed/adults and kids teams, will receive medals and prizes. 
CLICK HERE to see how many points you'll receive for participating in the obstacle course.
Race arena will be set up on the Lower Narrow Gauge, starting near the Jean Luce building (same location as 2021)

All teams will have designated times for competing in the race arena (please check with your team captain, times will be released the week of March 1)

The top three skiers & top three snowboarders will receive medals and prizes
---
24-Hour Teams Only
for points towards King of the Mountain and Kid's Cup prize
This is how we will calculate points:
Modified High School Scoring System

Top 4 Times Per Team Count

Lowest Cumulative Score of Team Wins

1st place = 1 point

2nd place = 2 points

3rd place = 3 points

Etc.

DNF or DNS gets last place point plus 1 point
PRIZING: Top 3 teams (for both King of the Mountain and Kid's Cup) will receive medals and prizes
Throughout the day, we'll have numerous prizes for you to win. Be sure you check in with your texts and the D24 Facebook Group to answer trivia questions about WinterKids or share special moments from your time on the mountain.
Day-Only Team Lifts Used Competition
Since Day-Only Teams will not be competing for the King of the Mountain or Kid's Cup top prizing, we have another competition for you: 
GOAL: To get on every single lift open at Sugarloaf on Friday, March 5th .
TIP: Enlist the tech-savvy team members to manage this element of the competition.
HOW TO: Teams will submit a TEAM PICTURE at each lift
Rules
PICTURE MUST INCLUDE:
Name of lift (or other identifying components to confirm the lift).
All members of the team. (Bibs must be seen in pic, over jackets

. No grabbing random people to join your team photo for more points. We don't need to see the number, just that everyone in the pic is wearing one.)

Members must be easily countable by judges.

BONUS:

WinterKids will provide each team with a selfie stick in their registration boxes. Bring this with you!

GOOGLE DRIVE:

Team captains will be sent a Google drive link to upload the pictures. ALL PICTURES MUST BE UPLOADED TO APPROPRIATE GOOGLE DRIVE BY 8PM FRIDAY MARCH 4th

Again, enlist the most tech-savvy person on your team to help with this element of the event.
POINTS: Teams will get a point for each team member included in each picture. 
12 points max per lift. 
Lifts only count once – one picture per lift.
NOTE:

If a lift is not open on the day of the Downhill24, every team will automatically get 12 points for that lift.  For example, if the West Mountain lift is closed, all teams will automatically start the day with 12 points. 
SUGARLOAF LIFTS TO USE:
Whiffletree Superquad

Sugarloaf Superquad

King Pine

Timberline

Skyline

Snubber

Skidway

Sawduster

Double Runner East

Double Runner West

West Mountain

Bateau T-Bar/Moosecalater
PLEASE NOTE: WinterKids will post on the morning of March 4th a list of lifts that are open/closed to confirm where points will be automatically given. If any lifts go on wind hold during the day, we will give automatic 12 points for that lift as well.
THE TEAM WITH THE MOST POINTS WILL RECEIVE PRIZES AND MEDALS. The tiebreaker will be based on fundraising.