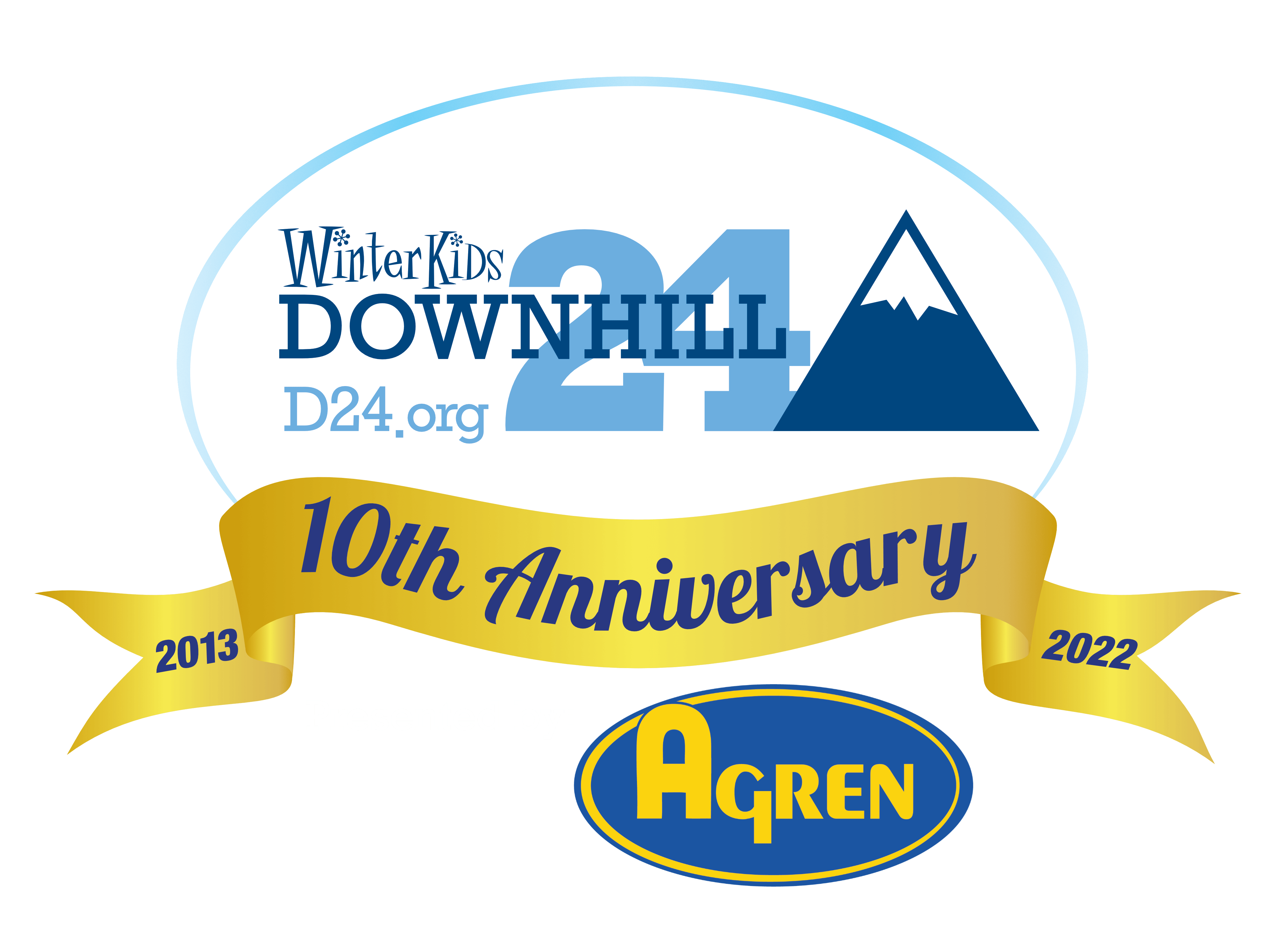 WinterKids helps children develop healthy lifelong habits through education and fun, outdoor winter activity. We create opportunities for children to be active, vibrant, and healthy in the outdoors.
We help children and families enjoy healthy and fun outdoor winter lifestyles while nurturing a connection to the natural environment – at home, at school, and in the communities in which they live. Last year, WinterKids created opportunities for 26,000+ kids to get outside and active with their families last winter in all 16 counties of Maine with innovative, outdoor education programs.
All Participants
All participants will receive a commemorative event T-Shirt.
$500+
Sunglasses & Commemorative Pin
$1,000+
Skull Cap in Navy
$2,000+
D24 Lanyard Keychain
AND
D24 Trucker Hat
$3,000+
D24 socks AND portable phone chargers
$4,000+
L.L.Bean fleece blanket
$5,000+
Complimentary access to Saturday night concert AND a D24 Koozie
$10,000+
Exclusive D24 Design Sea Bag
$20,000+
L.L.Bean Ultrallight Down Jacket
OR
L.L.Bean Rolling Duffle
Where does your money go?
allows a family, who would otherwise not have the opportunity, to try a new winter sport through the WinterKids App.
outfits a child with the equipment and transportation for a 12-week cross-country skiing program.
Downhill 24 Beneficiaries:
Each year, WinterKids chooses a secondary beneficiary for the event in order to support and strengthen health and outdoor programs for kids and families in the Carrabassett Valley area. WinterKids has donated over $200,000 to these beneficiaries since 2016, including:
In 2022, WinterKids will donate to the following organizations:
Each beneficiary will receive a cash grant, a day-time team of up to 12 at the Downhill 24, and will keep 50% of all the money their team raises.
Please check back for information on the NEW Downhill 24 Outdoor Fund!
Fundraising Resources & Information
We are so grateful you are joining us for the 10th Annual Downhill24! This event has helped WinterKids expand in more ways than our founders ever thought possible.
We know that fundraising can be challenging or seem daunting. We want to give you all the tools, resources, and ideas to help you in your fundraising efforts and make fundraising FUN and exciting. If there is anything missing from this robust resource hub, please feel free to email us at Downhill24@winterkids.org with the subject line FUNDRAISING HELP and we will get you what you need!
As the team captain, it is your job to rally the troops and get everyone on the same page in regards to logistics, details, and fundraising. Here are some tips from our team captains to get you started:
Attend a Team Captain webinar with WinterKids!
We will be holding two Team Captain webinars:
Thursday, January 27: 3pm – 4pm ET
Wednesday, February 2: 2pm – 3pm ET
SIGN UP FOR A WEBINAR HERE: https://calendly.com/winterkids/10th-annual-downhill-24-team-captain-info-session
Communicate – rally the troops!
Use email, social media, and the fundraising platform to connect with your teammates and your fundraising supporters.
Get your team created and fundraising platform launched early!
Start engaging with your audience early and building momentum.
Help your team organize multiple ways to raise money.
Use social media, business contacts, restaurants….get creative and start early!
Get Strategic!
Help your team come up with a game plan that will maximize efforts and get everyone on the mountain for the full 24 hours. For example: Ski 4 runs back-to-back towards the end of the hour, and into the beginning of the next hour. This should allow for 20+ minutes at the middle of each hour to warm up inside between the 4 runs to maintain 2 runs/hour.
Make sure your team knows what to expect.
Get them into the D24 Facebook group – show them the D24 recap video – get them as well informed about the event as possible.
Bring a bag with a change of clothes
(and at least a few extra pairs of socks) to the King Pine Room, especially if you want to ski overnight.
Bring a phone charger or portable power.
Your battery will die quick on those 2am chairlift rides!
Be prepared for all weather conditions.
Make sure to be prepared for weather and conditions so you can stay comfortable and get your gear tuned up beforehand if you can! 24 hours is a long time.
Fundraising Resource Quick-Links:
CUSTOMIZE YOUR FUNDRAISING PAGE
Update with pictures, and share your story (next point) of why you are fundraising. Have fun with the process. CLICK HERE to learn how to edit and customize your classy fundraising page.
SHARE YOUR STORY
Whether you are WinterKids alumni, your kids participated in WinterKids – OR – you were fortunate enough to always be able to access outdoor activity growing up, you likely have a connection to being outside and active in the winter. WinterKids provides the tools, access, and opportunity to kids, families, and teachers all over Maine and beyond to get outside into the fresh air, whether at school for outside learning or with family on the weekends. Share how being outside and active during our coldest months has played a major role in your growth and life – and why you feel it is so important we continue to provide this access to kids who may not be as lucky.
BREAK IT DOWN
Sometimes fundraising can feel overwhelming because reaching a big number seems impossible — but when you break down the goal into smaller bites, it seems more manageable. Here are a few ways that a $500 fundraising goal can be reached quickly:
Five (5) $100 gift donations from 5 local businesses
Ten (10) $50 gift donations from family
Twenty (20) $25 gift donations from friends
Fifty (50) $10 gift donations from social media contacts
One hundred (100) $5 gift donations from your community
GO FOR THE GOLD with your fundraising goal!
Really go for it with your fundraising goal – do not be afraid to set it HIGH! Donors love to see that high fundraising goal when they visit your personal fundraising page to make the donation. They may choose to double their intended donation because they see that you have created a fundraising goal that depends on their generosity. Do not worry, you will not get charged extra if you don't reach your goal (unless you don't meet your confirmed fundraising minimum) so set it high and reach for the stars!
UTILIZE OUR SOCIAL MEDIA TOOL KIT
This kit has a variety of graphics for you to utilize in your fundraising efforts. From Facebook, Twitter, IG post graphics to flyers & posters you can print and more. Utilize these as often as you need. If there is something you would like us to create – like a graphic for that you do not see here, email us at Downhill24@winterkids.org and we'll try to create something for you (no personal graphics).
We've created these graphics to make it super easy for you to share information about WinterKids and how the funds raised directly impact children in Maine and beyond.
CLICK HERE for directions on how to share your fundraising page to Facebook & Twitter. For Instagram, please make your personal fundraising page URL your "link in your bio".
PLEASE NOTE: When you are sharing your fundraising page link with social media, please be sure you share YOUR PERSONAL FUNDRASING PAGE – not your team page. This is how you will be sure to get credit for the fundraising.
CUSTOMIZE & SEND THIS SAMPLE ASK LETTER (AS SNAIL MAIL OR EMAIL OR BOTH! EVERYONE LOVES MAIL WHEN IT ISN'T A BILL!)
Copy this sample ask letter, customize it with your own story, and used it as an attachment in an email or as a printed snail mail (USPS) ask to friends and family. TIP: Include a self-addressed envelope with the letter so people can easily mail you back a check (make sure they make it out to WinterKids).
EMAIL/MAIL EVERYONE IN YOUR CONTACTS – even if you do not expect them to give.
Do not decide for other people that they will not want to give to your fundraising campaign. You never know who might have had a family member benefit from WinterKids in the past, or who just loves to give to non-profits each year. Just go for it and ask everyone you know.
THERE IS FORTUNE IN THE FOLLOW-UP!
Do not be afraid to ask twice – or even three times. You never know if an email or letter got lost in the shuffle or in the business that is social media. Email multiple times, post multiple times, ask as many times as it takes.
GET CREATIVE
Everyone has their own special talent and gifts. Think about what you love to do most, and think about how you can turn it into a fundraising idea. Do you love to paint? What if you painted a group of 20 paintings and auctioned them off for $20 each – all proceeds going to your fundraising campaign? Love to sing or write music? Offer a custom birthday song to anyone who donates $100. Love to teach yoga? Host a "donation-based" class where the proceeds go to your fundraising campaign.
ADDITIONAL FUNDRAISING IDEAS
SOCIAL MEDIA: Share your personal fundraising page OFTEN on Facebook, Twitter, Instagram, LinkedIn, etc. Remember, with the algorithm, expect that not everyone will see your post the first time. A great practice is to post your fundraising page 2-3x a week! The more, the merrier so more people can see it! CLICK HERE to see how best to share your personal fundraising page. If you have 500 friends on social media, and 50 of them make a $25 donation to your personal fundraising campaign, you'll raise $1,250 dollars!
MATCHING GIFTS: Matching gifts are a type of corporate giving program that essentially double an employee's initial donation to an eligible nonprofit organization. Two ways you can utilize a matching gifts program:
DONATE TO YOURSELF AND HAVE YOUR EMPLOYER MATCH IT: No better way to prove your dedication to the cause than to kick-off your fundraising campaign with a donation to yourself. Once you do that, confirm with your employer that they can match your donation and go through the process to make that happen.
ASK YOUR DONORS TO CHECK WITH THEIR EMPLOYERS: Whenever you see someone make a donation, send them a quick thank you to recognize the donation. Follow up with a note about matching donations at their place of employment. A simple note like "Do you know if your employer matches donations? If not can you check? This would be SUPER helpful in my quest for reaching my fundraising goal!"
HOST AN EVENT: If you love hosting events, utilize this skill set to raise some money for your campaign. From a bake-off, to a tap takeover, to a guest bartending night – there are tons of options. Here are a few ideas to get your fundraising juices flowing:
HOUSE PARTY: Host a house party (social distancing in place) where friends donate $10 to get in and get a raffle ticket. Have drinks on hand, and raffle prizes (reach out to local breweries and business to donate items) and offer the opportunity to buy more raffle tickets.
GAME NIGHT: Host a game night where participants pay $25 to "buy in" to the game night. This could be a fun way to get super competitive with friends. Work with a local business to offer a big prize (like a $200 gift card to your favorite local restaurant) and maybe even have a trophy that the winner gets to take home along with bragging rights.
BOWLING NIGHT: Get teams of 3 to "buy in" to the bowling night. Make it super competitive (this is a great opportunity to get friends and family to have some fun rivalries) and create opportunities for teams to "sabotage" other players. Like a $50 donation adds points to a team's score or a $100 donation gives strikes for the first round. A trophy for this event can be super fun too!
BAKE SALE: Everyone loves home baked snacks – especially over the holidays. If you love to bake, take pre-orders for who wants what (so you don't overbake) and then make deliveries to pick up the donation in exchange for the baked goods. Who knows, maybe you'll get a bonus donation for your efforts!
RESTAURANT SUPPORT: Many local restaurants will host a "WinterKids" night on your behalf where 10% of all sales from that night will go towards your fundraising campaign (they will cut you a check and you can bring it to WinterKids, and we will add to your fundraising page!). Start paying attention to the restaurants in your area that love to have these nights, and ask if you can book one for yourself. Invite everyone you know to join that night. Sometimes, the restaurant will allow you to hand out flyers or host a raffle that night while you are there.
SHARE YOUR TALENT/SKILL: If you have a specific talent or skill you usually reserve for compensation, maybe host a few spots for a "donation-based" offering. For example, if you teach piano, perhaps during the month of January you offer "donation-based" lessons to anyone interested, and they can make the donation directly to your fundraising page.