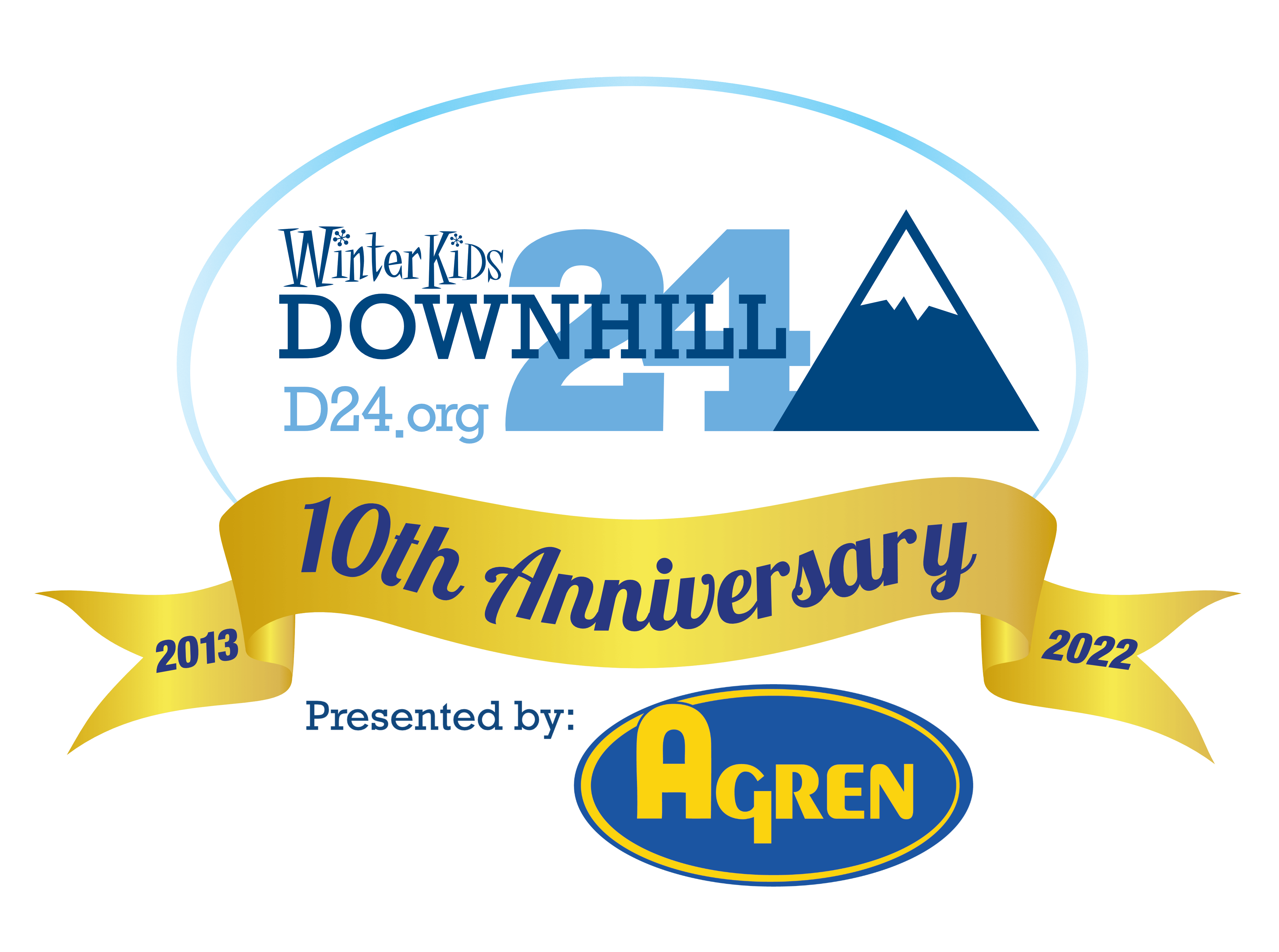 Two Weeks Left to Register for WinterKids' 10th Annual Downhill 24 at Sugarloaf
FOR IMMEDIATE RELEASE
Media Contact:
Julie Mulkern, Executive Director
(207) 871-5700 x102 or (207) 671-4661
jmulkern@winterkids.org
Registration for the 10th annual WinterKids Downhill 24 at Sugarloaf on March 4 – 5, 2022 will close on February 25, 2022. Presented by Agren, the WinterKids Downhill 24 is a 24-hour ski and snowboard challenge to raise money for WinterKids programs – to help more kids build healthy habits through outdoor, winter activity. This is the only night of the year to ski under the lights at Sugarloaf.
This year, teams can register for a day-only track, 24-hour track, or a new skin-up track. There are registrations for corporate teams and individual teams, with teams of up to twelve people. The event runs from 9 a.m. Friday to 9 a.m. Saturday with a full schedule of events including a race arena, inflatable obstacle course, trivia, raffles, all-night mid-mountain party, music, food, and more!
For the 10th anniversary, there will be a Saturday evening celebration in Sugarloaf's King Pine Room with the Mallett Brothers Band and Elec Simon & Friends. Tickets are open to the general public and can be purchased at https://www.eventbrite.com/e/mallett-brothers-with-elec-tickets-229861711567.
For the 10-year anniversary, the organization aims to raise $1 million. "The success of this event has changed the trajectory of our organization and allowed us to serve thousands more kids each year," says Julie Mulkern, WinterKids' Executive Director. "Our goal is $1 million this year and proceeds from the event will help to create a new Downhill 24 Outdoor Fund – a fund to further address some of the barriers to getting outside in the winter – including transportation, equipment, and clothing," Mulkern adds.
This event will sell out. To register your team and learn more, visit www.winterkids.org.
The 1Oth annual Downhill 24 is presented by Agren. Additional sponsors include: L.L.Bean, Pape Subaru, Kittery Trading Post, Zachau Construction, MaineHealth, Franklin Printing, Fairway Independent Mortgage, Patra Company, Pike Industries, United Rentals, Portland Pie Company, Schaeffer Douglas Title, Sugarloaf Inn, Three Rivers Whitewater, Wipfli, Capozza Floor Covering Center, Martin's Point Health Care, ACE Painting, Orono Brewing Company, Mountainside Real Estate, Winterstick, West Mountain Ski Company, Central Maine Healthcare, Vigilante Capital, Anthem, Knickerbocker Group, and Maine Drone Imaging.
ABOUT WINTERKIDS
WinterKids is an independent 501(c)(3) nonprofit organization. Our mission is to help children develop healthy lifelong habits through education and fun, outdoor winter activity. This year, WinterKids will reach 26,000 Maine and New Hampshire children through our family programs, school programs, and community events. WinterKids' Major Community Sponsor is L.L.Bean. WinterKids' Supporting Sponsors are Agren, Central Maine Power, Harvard Pilgrim Health Care, WEX, and WMTW Channel 8 and The CW. Learn more at WinterKids.org.