The 6th Annual WinterKids Winter Games have wrapped, and things got seriously

WILD

!
We'll announce our application date and additional details for next year's Winter Games in mid-September. Set up a calendar reminder to visit our website when we do:
Sign up to receive email updates from WinterKids:
January 9 – February 3, 2023
This year's theme was "My Wild Winter," Schools across Maine (along with 13 other states!) participated in four weeks of fun, active outdoor learning challenges!
Once again, the WinterKids Winter Games brought a little healthy competition to elementary schools across Maine. The four-week-long program, which spanned from January 9th to February 3rd, featured fun, active, and educational activities that get students moving and learning outside!
For our Sixth Annual WinterKids Winter Games, 3,000 students in 16 schools across Maine competed for $30,000 in cash and prizes in the Competitive Track, AND an estimated 7,000 students across 13 states participated in the flexible Play-Along Track. Ultimately, over 10,000 kids got outdoors and active throughout January!
6th Annual Winter Games Participation Tracks:
3,000 students in 16 schools across Maine competed for $30,000 in cash and prizes!

Full-school participation required

Opportunities to win cash prizes from Central Maine Power Company!

Access to our private Winter Games Facebook group.
We have run out of toolkits, but our PLAYBook and supplemental resources are available FREE here on our website. Register for access!

Classes can participate on their own or with other classes in the same school, and all at their own pace (even after the games have officially ended!)

The first 7,000 registered students were outfitted with our Winter Games PLAYBook and weekly incentives for all participating students (OUT OF STOCK)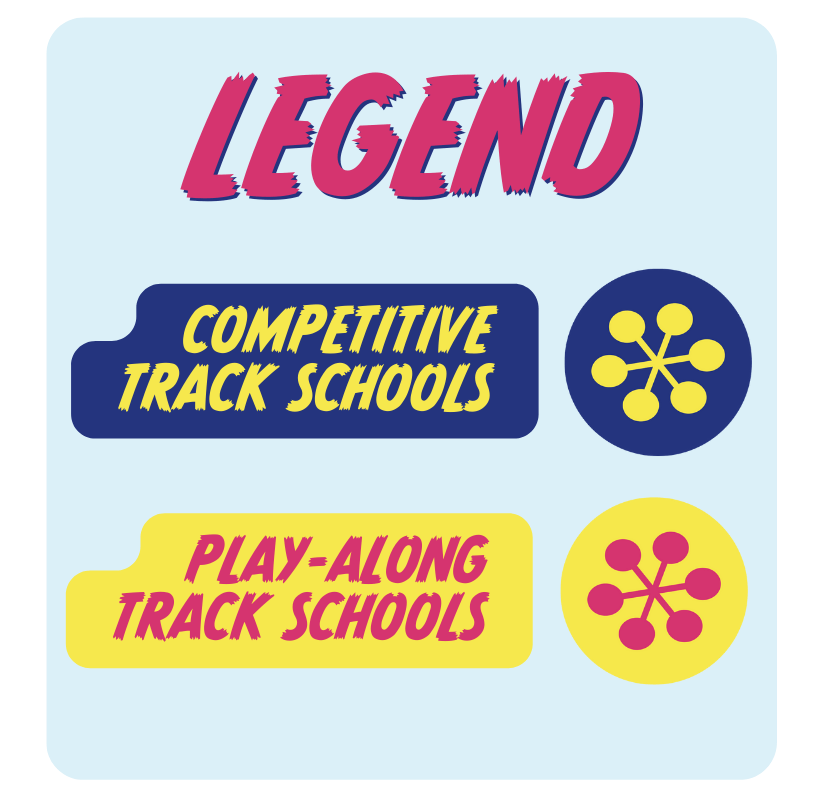 Our Winter Games PLAYBook Guides the Way!
Our easy-to-follow "My Wild Winter" Winter Games PLAYBook guides students through four weeks of fun outdoor learning challenges, with weekly incentives for all participating students who were registered before the start of the Games.
Week 1

January 9-13, 2023
FOCUS: Outdoor Physical Activity
INCENTIVE: Journal
Week 2

January 16-20, 2023
Sponsored by Backyard Farms

FOCUS: Nutrition
INCENTIVE: Smoothie Cup
Week 3

January 23-January 27, 2023
Sponsored by Subway & Aroma Joe's
FOCUS: Family Engagement
INCENTIVE: Pedometer
Week 4

January 30-February 3, 2023
FOCUS: Winter Carnival
INCENTIVE: Recycled Disc Flyers
"
Our students are much more aware of the fun they can have in these long winter months and it's been wonderful to hear the positive feedback from our parents. It certainly made January fly right by!
"
-Nancy Stover, Prescott Memorial School, Washington ME
"
The activities gave us new, fresh ways to get the kids engaged outside. Students enjoyed the inquiry, and structure, yet freedom in the way they were able to carry out the activities. It also gave us a great chance to work together as a school, team, and community.
 "
-Karen Thurston, Andover Elementary
The community has been super excited, the whole school, there's been a different atmosphere and we're just really happy to be chosen to be part of this, this year.

Teacher / Leroy H. Smith School
Kudos to you and this organization for mapping out such a wonderful program for Maine schools. I have been blown away by every aspect of this initiative.

Principal / Waterboro Elementary School
Win or lose, this has been a wonderful experience for our staff and our community.

Principal / Ash Point Community School
Of course we want to win! But I feel like we've already won... It's an immediate result. You can see the difference in the kids."

Principal / Swan's Island School
Ok, first and foremost, this is the COOLEST program.  The amount of thought that has gone into it is incredible.

PE Teacher / Waterboro Elementary School
I am SO thankful for the impact this Winter Kids competition has on our kids. In this short time, the changes in attitudes, physical activity, even the helpfulness of students was very heart-warming.

Piscataquis Community Elementary School
Because of this competition, my family is now rethinking our snack choices and making healthier ones, our kids and community have formed a wonderful bond coming together for one goal, and you managed to get a Mom, who hates winter and the cold, outside embracing the beauty of Maine having fun with her kids.

How do you combine a community, school, home, nutrition, exercise, team, kids, parents, teachers, school spirit, awareness, and fun? Participate in WinterKids Winter Games!! Seriously had no idea how amazing this would be and what our community was capable of! The support and Camaraderie is incredible. What a positive experience this has been for our kids and all the parents too!

It has been inspirational to watch our community unite around a common purpose of healthy, active kids.

Assistant Principal / Waldo T. Skillen School
Let's just say several parents told me their students were sleeping better at night and at school we've had much less behavior issues this week! Two very big positives for WinterKids Winter Games challenge week #2!!

Principal / Miles Lane Elementary
This was truly an inspiration to the kids, staff and families to embrace the winters here in Maine, more than they already have.

School Nurse / Dayton Consolidated School
Recent Winter Games News & Updates
THE 2023 WINTER GAMES WERE MADE POSSIBLE THANKS TO GENEROUS SUPPORT FROM: