DESIGNED FOR
Preschool + Early Elementary
MOVE. LEARN. EXPLORE. with us! These ideas can be adapted and used in a home setting or classroom setting. Follow along for our book recommendations, fantastic resources for learning more about birds, a simple binoculars craft for backyard bird watching, bird-themed Simon Says, songs about birds, and even bird-themed yoga!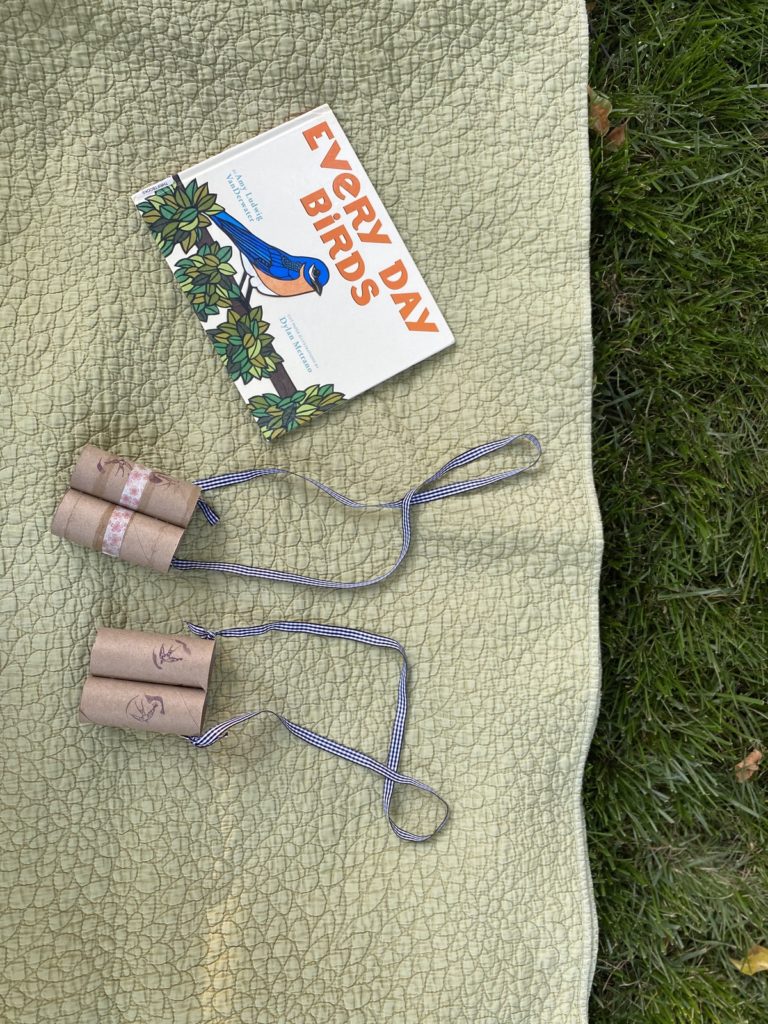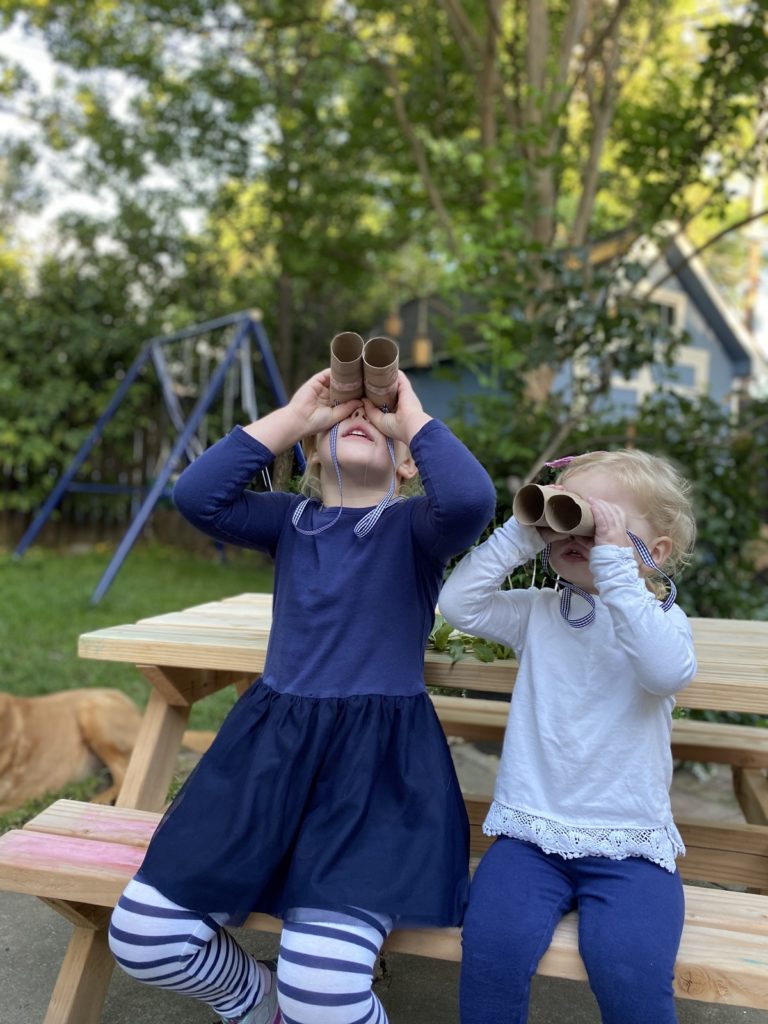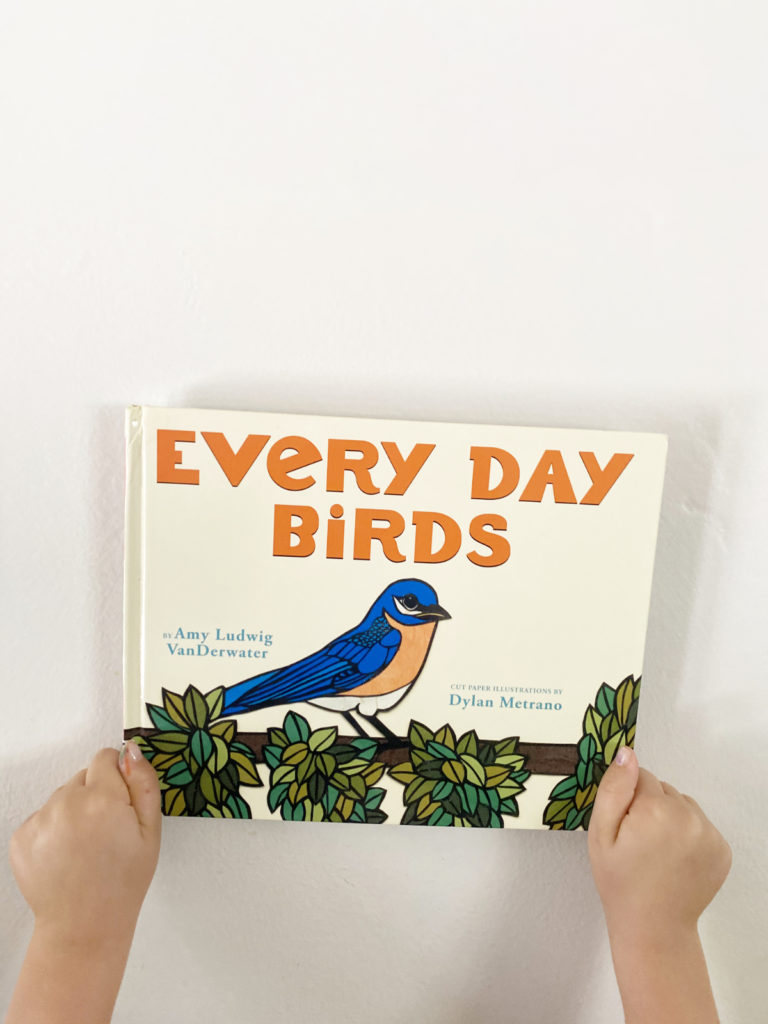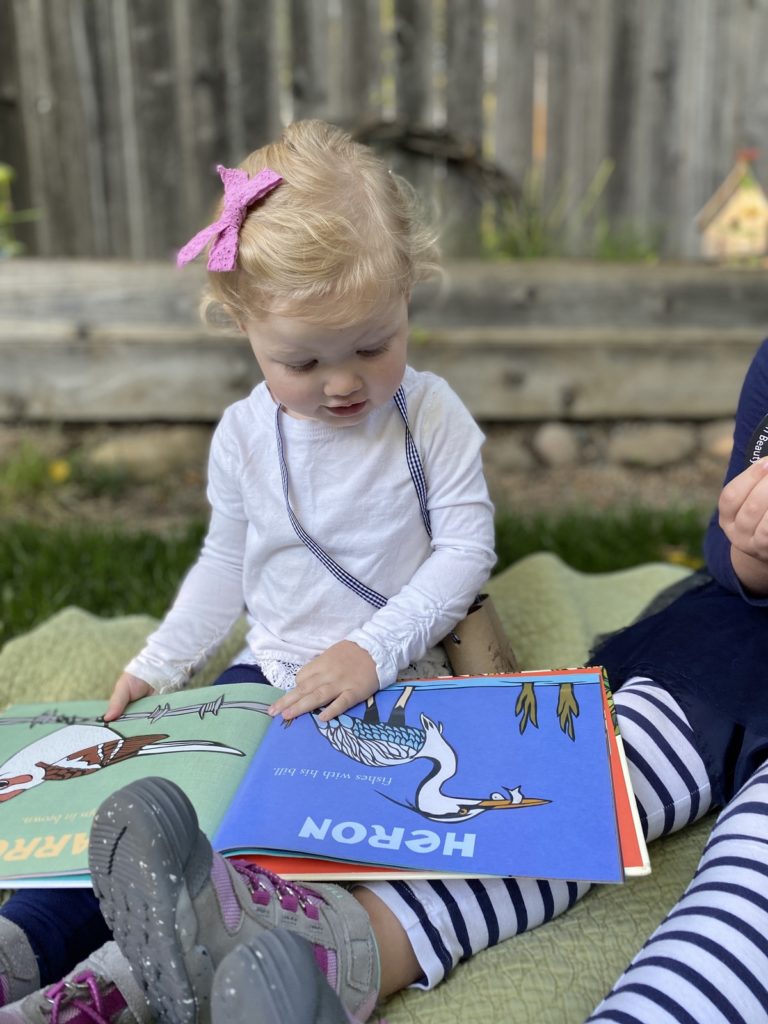 Every Day Birds
Written by Amy Ludwig VanDerwater, Illustrated by Dylan Metrano
Every Day Birds is full of beautiful paper cut images of 20 common North American birds. There is one page for each bird, with one identifiable trait for each bird, wonderfully weaved together as a poem. This is a fantastic children's book for sparking an interest in identifying birds. It isn't overloaded with facts, but for those who would like to learn more, there is a section at the end with additional information about each type of bird.
Fun fact: The illustrator, Dylan Metrano, is from Maine! The illustrations on the first page – silhouettes of birds flying, is inspired by the birds he sees flying over his home in Monhegan Island, Maine!
Additional Books We Recommend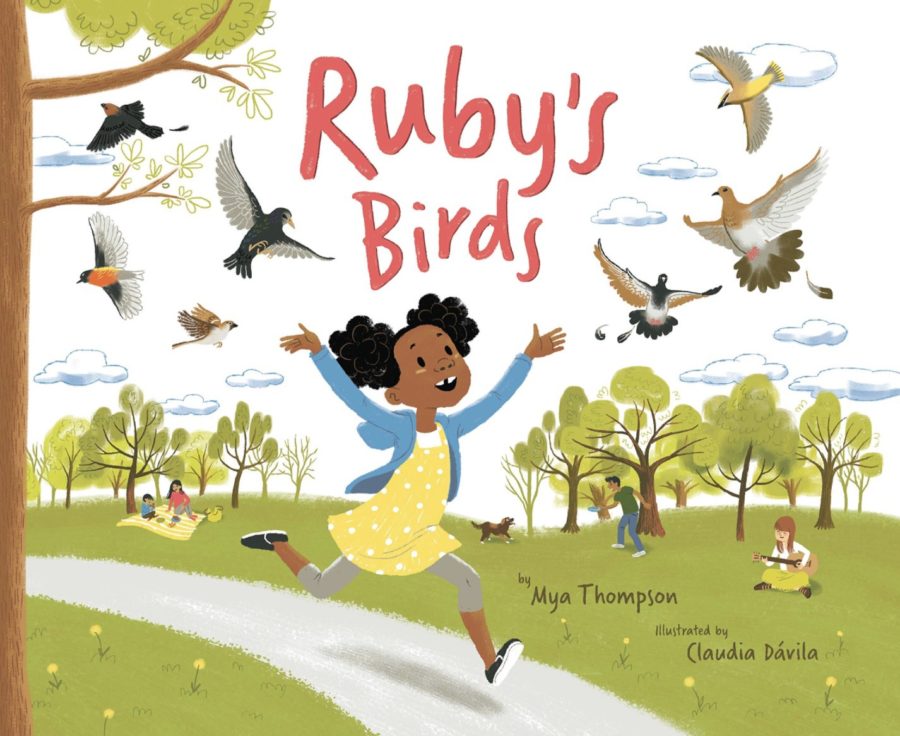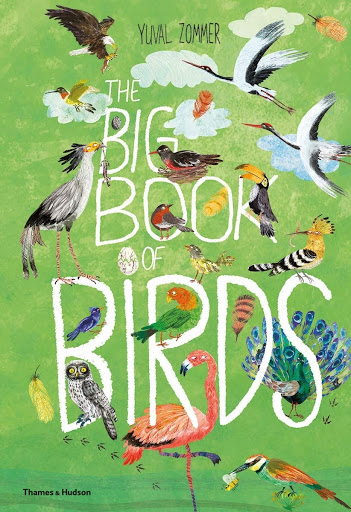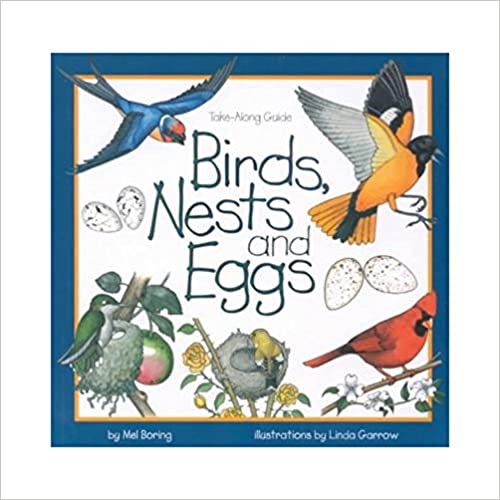 Don't want to wait for books to arrive in the mail before you get started? Check out this read-along of Ruby's Birds, courtesy of the Detroit Zoo!
Let's Learn More!
A (Free) Learning Resource
The National Audubon Society has launched a new, and absolutely wonderful, "Audubon for Kids"! Here you'll find 10 weeks of free, high quality, thematic lessons, and learning activities about birds for children.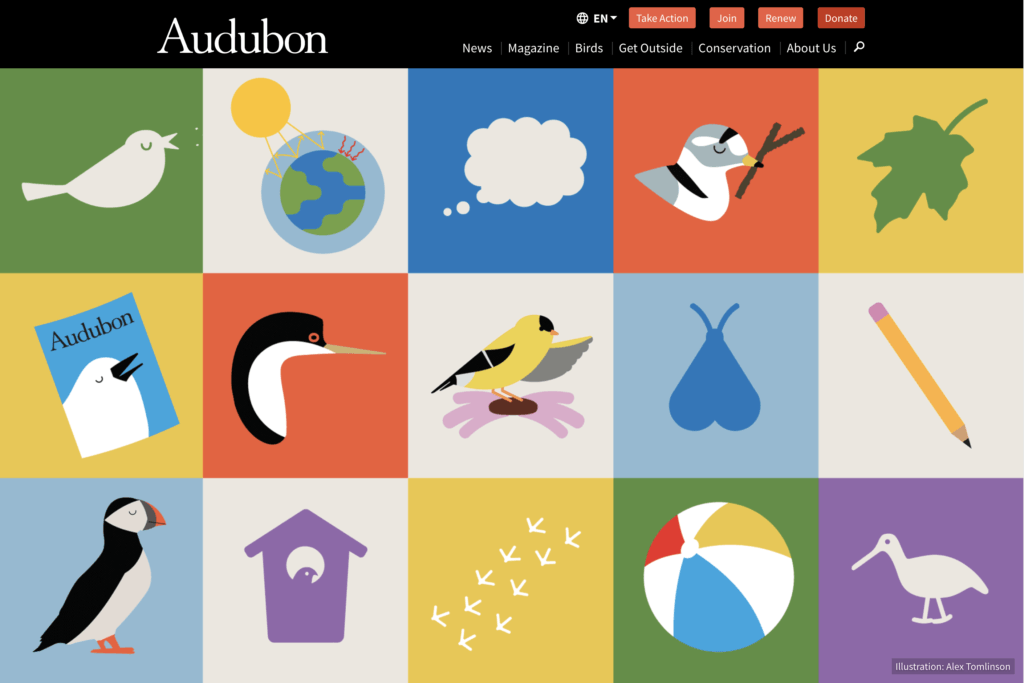 After reading Every Day Birds, create your own binoculars! Use them to spot birds near your home! Here is our simple yet fun DIY binoculars tutorial…
Step 1
Make a small hole for ribbon on one side of each toilet paper roll.
Step 2
Decorate toilet paper rolls. We used a little bird stamp and washi tape. We recommend keeping it simple 🙂
Step 3
Arrange the 2 toilet paper rolls together, and staple the middle walls together, on both ends. Be sure the holes for ribbon are on the outer sides.
Step 4
Measure the ribbon to fit your child appropriately, then lace the ribbon through the holes on the sides and securely tie each end.
Voila! Hello binoculars!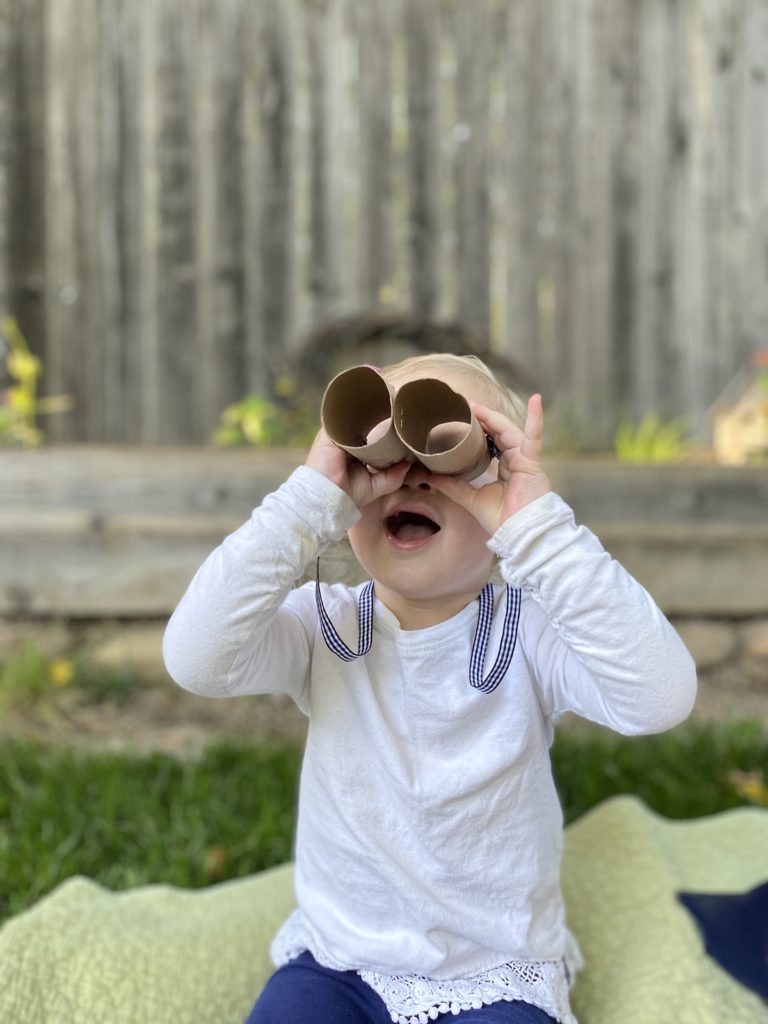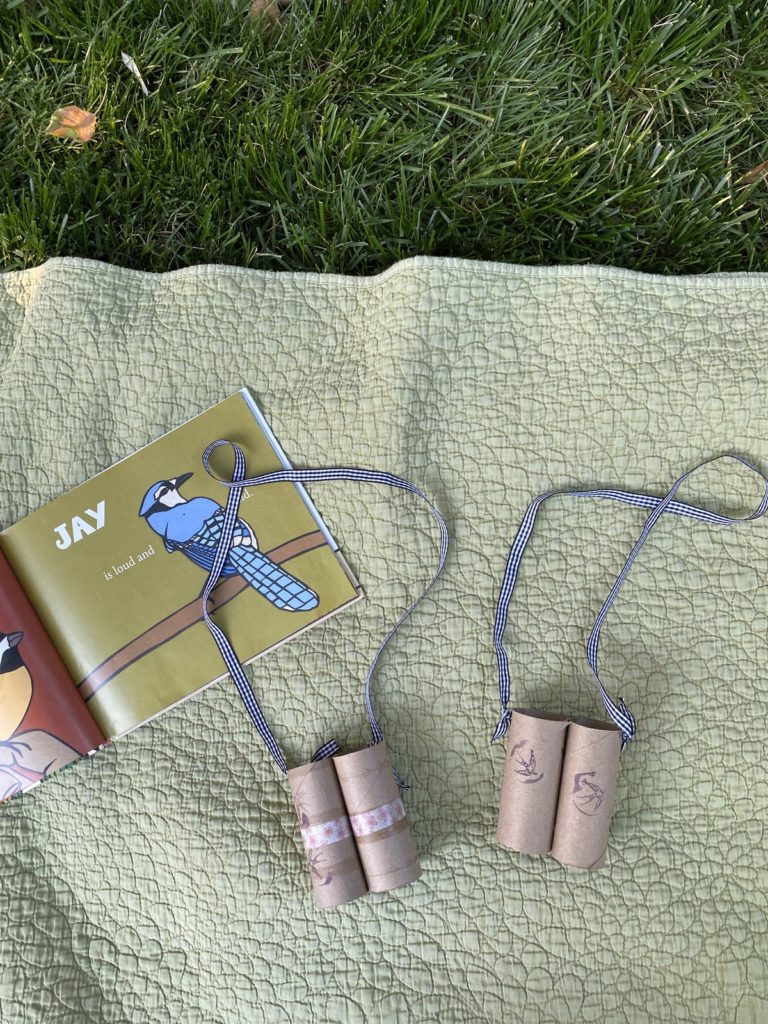 Backyard Bird Watching, Questions to Ask:
*Field Notes: Bring along a little notepad and pencil, so your child can draw pictures of the birds you see and jot down their observations.
*Field Guide: Bring along a field guide for your area to help identify birds. If you don't have a field guide for your area, the Merlin app is a great resource! Merlin is a free, family friendly app, that can help you and your children work together to identify and learn more about the birds you find! Learn more at https://merlin.allaboutbirds.org/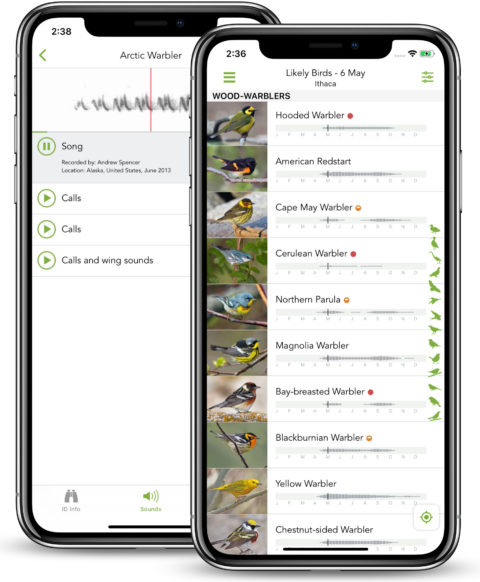 This is also a great way to help keep children engaged on hikes!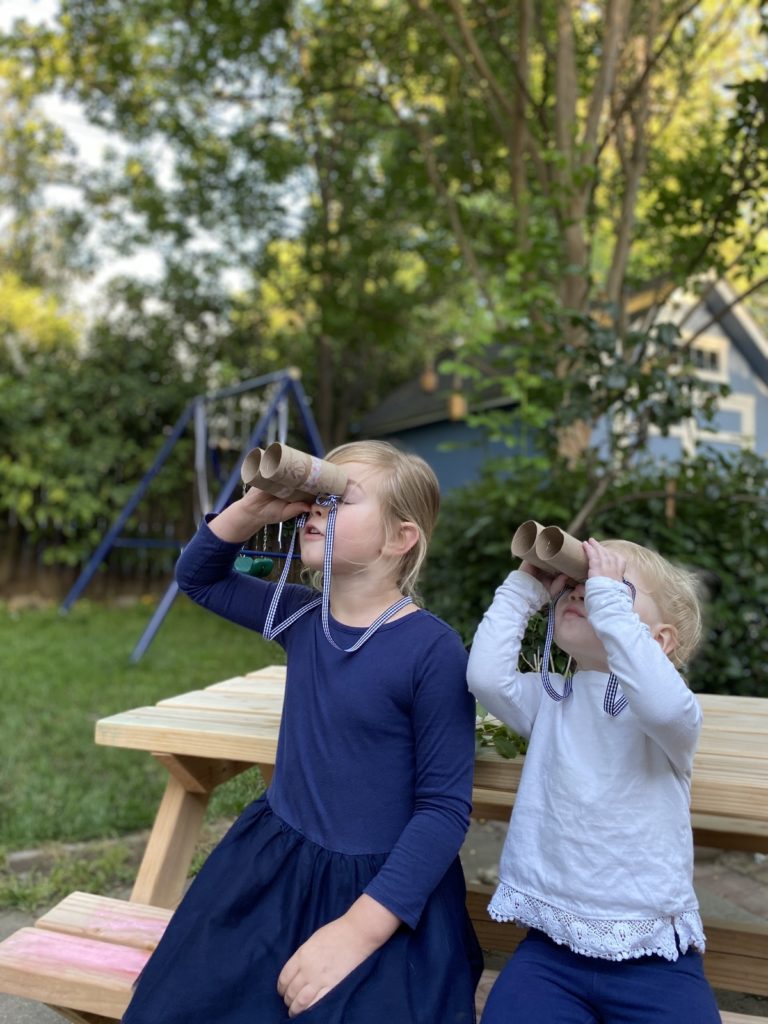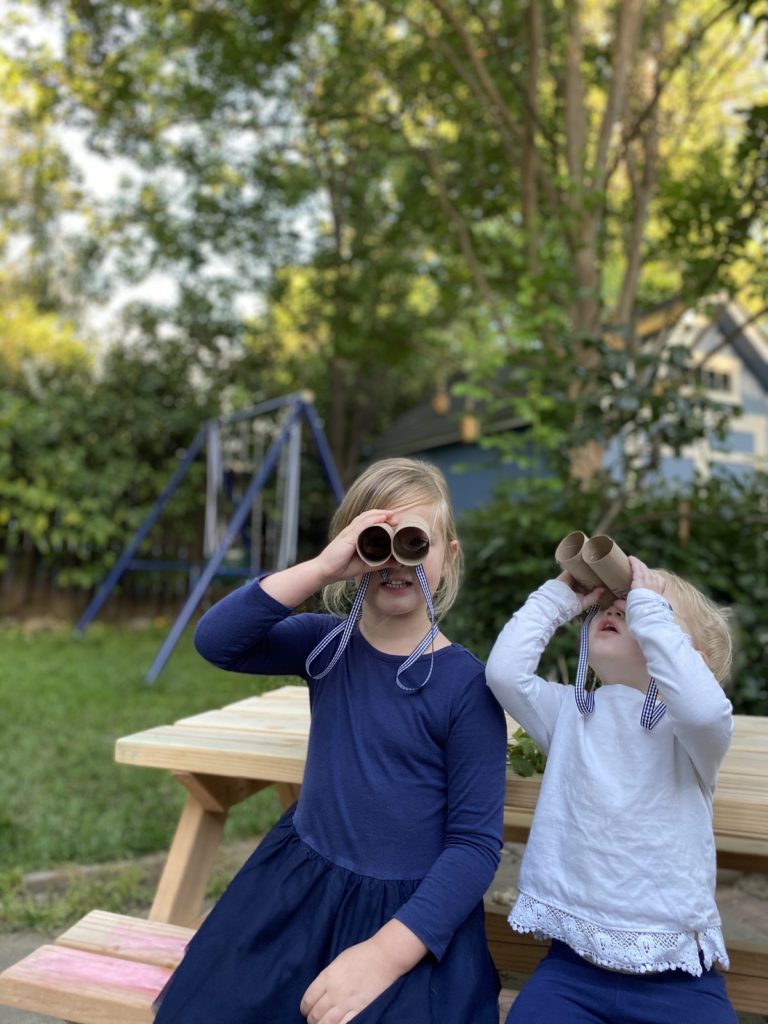 Play! Bird Themed Simon Says:
Play Simon Says! We've created a bird-themed version that you can download and print for free. We left a few spots open for kids to use what they have learned about birds in their area to create their own Simon Says commands.
Simon Says…
-Swoop like an owl
-Hop like a sparrow
-Search for nectar like a hummingbird
-Tap on a tree like a woodpecker
-Dive for prey like a hawk
-Soar like an eagle
-Flap your wings like a puffin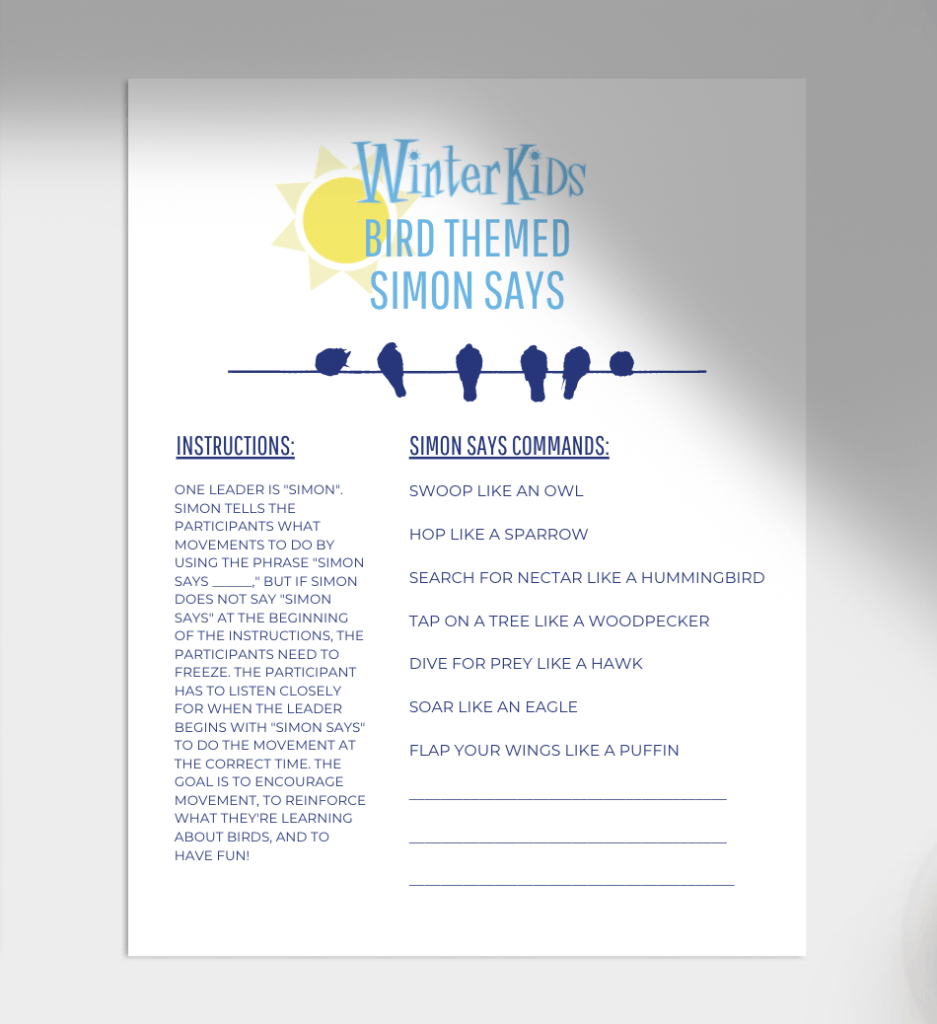 Dance! Here are our favorite children's songs about birds:
Yoga! Bird themed yoga by Cosmic Kids Yoga (for free!):